RaceCapturePro-MK1
RaceCapture/Pro MK1 information page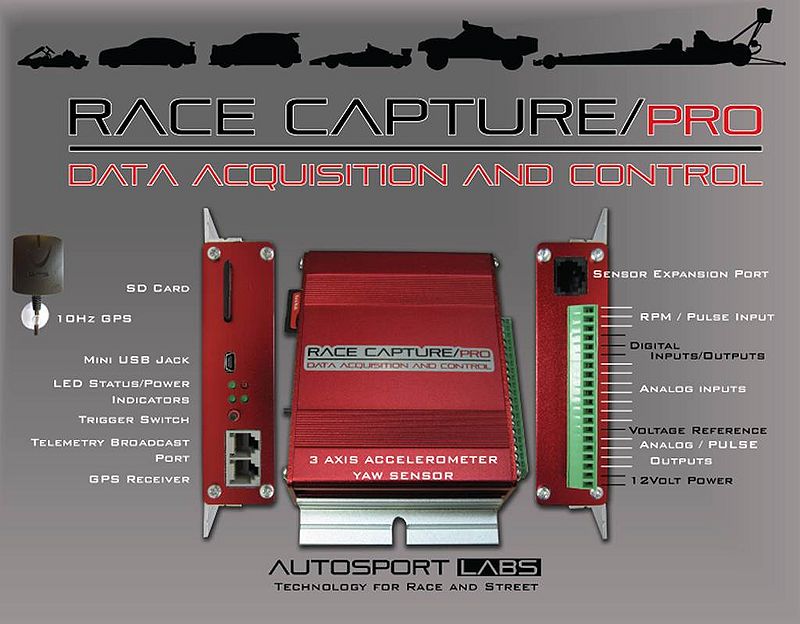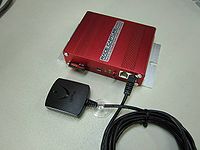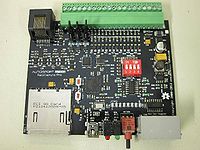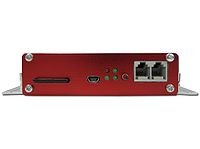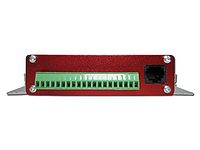 Open Source Data Acquisition and Control
Autosport Labs is excited to announce our latest project: RaceCapture/Pro - a powerful, multi-channel data acquisition and control system for motorsport applications
Impact
RaceCapture/Pro transcends most traditional "Data Logging" systems by virtue of its powerful processor, an emphasis on outputs as well as inputs, and on-board Lua scripting that lets you define custom behaviors. The ability to perform data acquisition while controlling other devices and systems, coupled with flexible end-user customization offers an unprecedented level of capability.
Significance
While the primary application of RaceCapture/Pro is focused towards race car data acquisition, its powerful processor combined with a wealth of inputs and outputs also makes RaceCapture/Pro a general purpose automotive computer, one capable of handling many different tasks - limited only by your imagination. If the question is "Can RaceCapture do ...?" the answer will likely be 'Yes' and often with little to no external hardware support necessary.
Flexibility
On-board scripting
We embedded the Lua scripting language right on board RaceCapture/Pro; with Lua you can control RaceCapture's behavior at run-time, no firmware programming required.
Some Examples:
Activate a warning light when an input threshold is exceeded, such as temperature or pressure, or a combination of both
Log data at a higher rate when in range of a particular GPS coordinate, or when some other condition is met
Auto-start/stop logging based on speed, RPM, or any other condition
Experiment with active aerodynamics by adjusting a wing based on GPS velocity
Define logic to control an intercooler sprayer
Intercept and remap an OEM sensor
Activate Smoke screens against your competitors :)
Software Connectivity
RaceCapture/Pro will feature software to:
Customize logging channels
View Runtime Data
Edit custom scripting
Perform data analysis and replay
Infinite Possibilities
Far more than a data-logging system: flexible Inputs and Outputs coupled with a powerful processor offers endless customization
Share configurations, tips and ideas with our online community
Fully Open Source System - Open Standards, Open File format Frequent software updates and end-user customizable!
Technical Specifications
Extreme flexibility comes with a powerful processor and a wealth of inputs and outputs.
Input and Output Channels
RaceCapture offers 25 input and output channels, enough to handle complex logging and control tasks.
7 dedicated 0-5v analog input channels

Measure sensors or process input from other devices.
3 dedicated 0-5v frequency input channels

Measure RPM, wheel speed, or any kind of periodic pulse.
4 configurable 0-5v analog or frequency output (PWM) channels

Control other systems or even override OEM sensors
3 configurable digital channels, settable for input or output

Receive input from switches or digital signals; or configure as output and use to activate accessories or drive indicator lamps with on-board 1A self-protected mosfets
4 Axis Accelerometer: 3 channel accelerometer module plus Z-axis gyro (+/- 2G per axis, 3G optional)

Measure and log 3D G-force in real-time with one of the industry's most accurate accelerometers.
Z-axis gyroscope measures yaw/drift in real-time.
10Hz GPS module input

Add an external GPS module for course mapping

Plot location, speed and time. Onboard detection of start/finish line for automatic lap count and lap time
Auxiliary Serial Port

Interface to real time telemetry, bluetooth adapter, dashboard display or other interface
Digital expansion port

A high speed port provides the ability to add CAN bus expansion, more analog or digital channels, integrate specialty sensor hardware such as thermocouple amplifiers, and so on
Logging
SD Memory card slot for data acquisition

Store up to 32GB of logging data
CPU
48MHz 32 bit ARM processor

Enough juice to perform high resolution logging and running complex, user-defined logic
Input/Output Protection
40v protection on all input pins
Analog outputs protected by auto-resettable fuses
Digital outputs are rated at 1A with self-protected mosfets
Over-current protection on 5V reference
2A internal switching power supply
Mechanical
Compact, rugged design

Unit measures approximately 4 x 3 inches (100 x 82 mm)
Weighs 8.4oz
Real-Time module weighs 7oz

Easy to use screw terminal block for wiring
On-board 'action' switch to start/stop logging (or other use)
On-board Status LEDs
Power
9-17v power
< 100mA for RaceCapture/Pro.
May burst to 2A temporarily when using RealTime Telemetry module
Example Sensor Connectivity