RaceCapturePro Downloads
Version 2 Beta firmware and app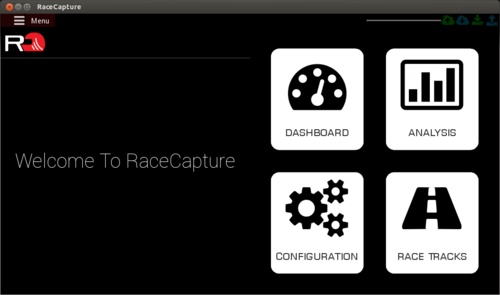 Advanced users are encouraged to try the V2 beta software. Download the firmware and new app below.
Firmware
RaceCapture App
Currently supported platforms:
Windows: currently supported
Linux: currently supported (run from source code; installer coming soon)
OS X: experimental support - USB interface fails to communicate (possible driver issue)
Android: port scheduled
iOS: port scheduled
Windows
Linux
Follow the directions in the README for setting up dependencies, then run the app from source.
RaceCapture App Github Repository
Previous Versions
Race Analyzer Downloads
Windows XP/Vista/7/8
Latest
Mac OS X
Mac support is coming soon. If you can program OS X applications and want to help cross compile and test, drop us an email
Linux
Linux support coming soon! Likewise, if you'd like to help with the cross compiling effort, email us!
Release Notes
Sample Logfiles
Want to play around with the analysis/playback features of RaceAnalyzer? Download Some Sample Logfiles
Race Analyzer is the software app that lets you configure RaceCapture/Pro's features and analyze/visualize datalogging sessions.
See our Upcoming Feature List for Race Analyzer
Previous Releases
Driver Downloads
Virtual serial port drivers for connecting RaceCapture/Pro to your Windows computer. Unzip the file to a directory on your computer and direct windows to this directory when prompted for drivers:
Windows 8 Note

Windows XP/Vista/7/8 Drivers V2 For firmware version 1.2 and higher
Windows XP/Vista/7/8 Drivers For firmware versions prior to 1.2
Firmware Downloads
Your RaceCapture unit already has firmware installed. If you need access to new features and/or bug fixes, download the firmware update utility and latest firmware here.
Latest
Note: firmware version 1.2.0 and higher requires newer V2 Windows USB drivers
Firmware Instructions
Unzip the latest and follow the directions in the README file, or read these extended Firmware Installation Instructions
Release Notes
Previous Releases
Note: firmware version 1.2.0 and higher requires newer V2 Windows USB drivers
Bootloader Releases
The bootloader is factory installed and shouldn't normally need to be re-flashed.
Firmware update utility
This is a small command-line utility that writes new firmware to RaceCapture/Pro. It is already included in the .zip distributions of RaceCapture/Pro firmware.