RacecapturePro MK3 hardware install
Installation
Orientation
Connections

Main Connector
The main connector provides access to all power, sensor and communications connections for the RaceCapture/Pro system.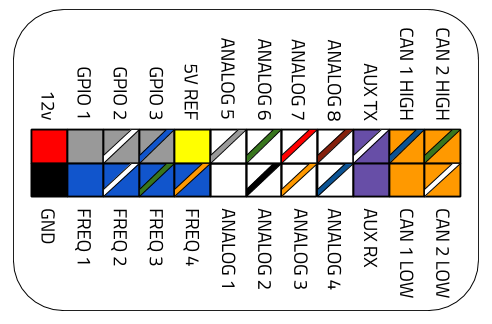 RaceCapture/Pro MK3 connector pinout
Power
Connection
Color
12v
Red
Ground
Black
Frequency / RPM sensor inputs
Blue
Frequency / RPM input 1
Blue / White stripe
Frequency / RPM input 2
Blue / Green Stripe
Frequency / RPM input 3
Blue / Orange Stripe
Frequency / RPM input 4
Voltage Reference
Yellow
+5v voltage reference
Analog Sensor Inputs
White
Analog Input 1
White / Black Stripe
Analog Input 2
White / Orange Stripe
Analog Input 3
White / Blue Stripe
Analog Input 4
White / Gray Stripe
Analog Input 5
White / Green Stripe
Analog Input 6
White / Red Stripe
Analog Input 7
White / Brown Stripe
Analog Input 8
General Purpose Input / Output (GPIO)
Gray
GPIO 1
Gray / White Stripe
GPIO 2
Gray / Blue Stripe
GPIO 3
Auxiliary Serial Input
Purple / White Stripe
Auxiliary RS232 Serial TX
Purple
Auxiliary RS232 Serial RX
CAN Bus
Orange / Blue Stripe
CAN 1 High
Orange
CAN 1 Low
Orange / Green Stripe
CAN 2 High
Orange / White Stripe
CAN 1 Low
Plug Connector Type
The connector is a standard 24 pin Molex Mini Fit Jr.
Plug Housing: Molex Mini Fit Jr 39012240
Compatible Pins: Molex 46018-1541 or 46018-1541
ProTip: a 24 pin Molex harness from a computer power supply can also work as a secondary wiring harness
GPS
Connect the included GPS antenna to this port.
Note: Tighten this connection to 5-6 inch/lbs (just beyond finger tight). Do not over torque
Cellular Telemetry
If optioned with the 3.5G real-time cellular telemetry module, connect the cellular antenna to this port.
Note: Tighten this connection to 5-6 inch/lbs (just beyond finger tight). Do not over torque
Antenna Placement Guide
GPS
For optimal GPS reception, install GPS antenna with a clear 360 degree view of the sky, such as on the roof of the vehicle.
Cellular antenna
For optimal cellular performance, install the cellular antenna on the roof of the vehicle, using the roof as a ground plane.
Antenna separation
It's recommended you separate the GPS and cellular antennas as reasonably far apart as possible, such as mounting at opposite ends of the roof.

Note: - about 3 foot / 1 meter separation is ideal.
RJ45 CAN + Power connection
The RJ45 port provides connections for power and both CAN channels.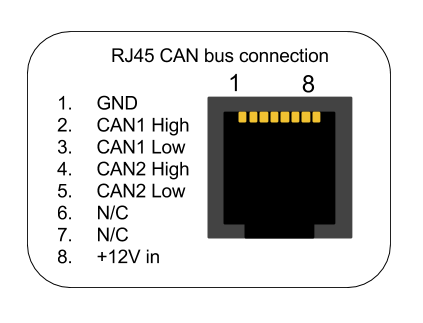 OBDII CAN cable
The RJ45 port is normally provided for the OBDII CAN cable accessory for a convenient plug and play OBDII connection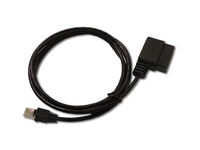 Custom Cable
You can also use a common RJ45 ethernet cable to provide power, ground and CAN bus data for a custom application.
RJ45 power and CAN connection pinout

| Connection | CAT5 EIA-T568B RJ45 cable |
| --- | --- |
| +12v | Brown |
| Ground | Orange/White |
| CAN 1 High | Orange |
| CAN 1 Low | Green/White |
| CAN 2 High | Blue |
| CAN 2 Low | Blue/White |
Note: These color codes assume EIA-T568B RJ45 cable (check printing on the cable to confirm)
Sensors
Analog Sensor inputs
Frequency / RPM sensor input
GPIO
Input Mode
Output Mode
Communications
CAN Channels 1 / 2
Auxiliary Serial