V3.2.x / 2.8.x New Feature: Calibrate TPS / Load Axis Calibration
Calibrating a Throttle Position Sensor
If you are running a Throttle Position Sensor (TPS) optioned MJLJ controller, you can calibrate you load axis to indicate actual 0 - 100% throttle position.
First, ensure your configurator software is set to show TPS%. You can select this option through the Controller Options dialog, accessed via the menu Tools / Controller Options.
Now, ensure the MJLJ is powered up and connected. Access the Load Axis Calibration dialog by selecting the menu Tools / Load Axis Calibration.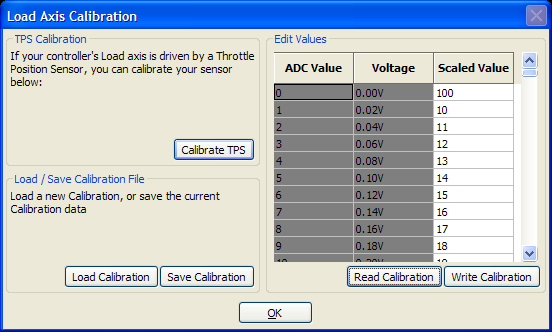 To calibrate your TPS, click the button 'Calibrate TPS', and follow the on-screen prompts. Once the process is complete the Controller's load axis will be calibrated to match your TPS. Verify this by opening and closing your throttle while observing the load gauge on the main window.
Custom load calibration
If you need to calibrate a non-standard MAP sensor or otherwise want to customize the existing calibration values, you may edit the values directly by using the table on the right side of the dialog. You can also load and save the calibration data to a plain text file.