RaceCapturePro2 QuickStart
Prerequisites
Quick Start
Attach GPS and Bluetooth module (if purchased) to RaceCapture/Pro
Plug in the supplied USB cable to RaceCapture/Pro and your computer.
When prompted for drivers, select them from the zip file you unzipped previously.

If not prompted or Windows does not ask you to locate drivers, open Device Manager, find RaceCapture/Pro (usually under 'Other devices'), right click and select 'Update Driver' software. Then select the folder containing the unzipped drivers you downloaded previously.

Confirm you really want to install the drivers
Open the RaceCapture application.

You should see 'Reading Configuration' at the top of the window once the app detects RaceCapture/Pro.

Click on 'Dashboard'
Click on the bottom right arrow three times, which will display the digital dash. You should see the Utc and Interval channels changing, which means data is being transmitted over USB.

Protip: Pick up the RaceCapture/Pro unit, move it around and observe changes from the internal accelerometer and gyro sensors!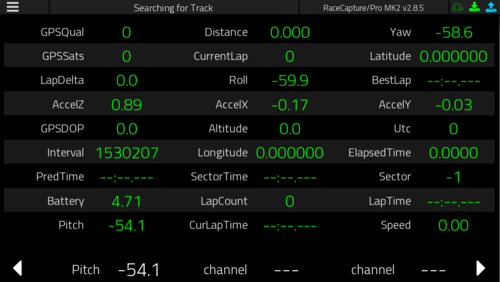 You have now setup the RaceCapture app!
Setting up Bluetooth
Enabling Bluetooth in firmware settings
Complete the Quick Start steps above, leaving RaceCapture/Pro connected to your computer
Connect the Bluetooth module to the inner of the two RaceCapture/Pro ports on the same side the USB cable connects to
Open the Race Capture app
Click on the top left 'Menu' button
Click on 'Configuration'
Click on 'Wireless' in the list of options on the left
Click the toggle to the right of 'Bluetooth'

Click the 'Write Config' button on the bottom left (down array pointing to a RaceCapture/Pro)
Set up Android tablet/phone
Go into the Android settings and pair your device with the RaceCapture/Pro Bluetooth module

Ensure the Bluetooth module is powered on (green light is flashing)
Default password is 1234

Install the Race Capture app on your Android device from the Google Play Store
Open the RaceCapture app, tap the screen until the RaceCapture logo show up at the top.
Tap the Bluetooth icon at the top right

Select RaceCapture/Pro

After a few seconds you should see a 'Connected to RaceCapture/Pro' message and data will be transmitting to your tablet.

The green light on the Bluetooth module should be solid and not flashing
Verify connectivity
Swipe to the digital dash screen and you should see values changing. Pick up your RaceCapture/Pro and move it around, you should see even more sensors changing!