RaceCapturePro RPM
Overview
Here's a guide for connecting RPM on various vehicles and engines. We'll be adding vehicles as we have more information.
Electrical / Signal requirements
RaceCapture/Pro requires a relatively clean square wave signal in the range of 0-5v to 0-24v.
Channel Configuration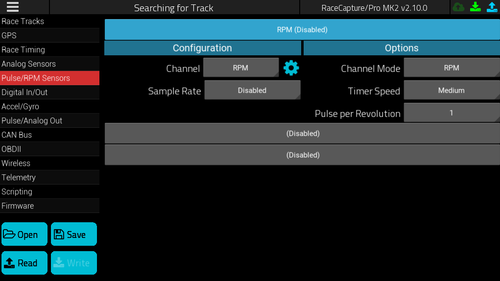 After connecting the signal to an appropriate input, configure the input:
Channel Mode : Select RPM, Frequency or Period (ms) or Period(us) mode.
Timer Speed: Slow, Medium, Fast. This sets the dynamic range for the input channel; you can adjust this for slower signals (better resolution at lower RPM) or faster signals (better resolution at higher RPM). For most RPM applications, use the default Medium setting.
Pulse Per Revolution: This is a divider used to dial in the correct RPM based on the number of pulses per crankshaft revolution. Typical values:

4 cylinder: 2 pulse per revolution
6 cylinder: 3 pulse per revolution
8 cylinder: 4 pulse per revolution
These values can vary based on the type of ignition- wasted spark, distributor, or coil-on-plug.
Sample Rate: Typically you will want a reasonably high sample rate when measuring RPM. 10 - 50Hz is ideal.
Channel: For RPM, simply choose RPM from the channel name; this is a well known name throughout the system; the dashboard's RPM screen will automatically pick up this channel when RPM mode is selected.
Channel customization (gear icon): Here you can customize the channel name, set min and max values, units label and the logging precision.
Also, if you've successfully tested one of the unverified configurations below, drop us an email so we can make a note.
All 2008+ Vehicles
For newer vehicles, simply follow our OBD-II setup guide and configure an RPM channel.
Coil + distributor based ignitions
You can tap into the high voltage flyback pulse from an ignition coil primary circuit by using the CoilX module. See Instructions
Honda
B Series Motors
BMW
E30
E36
E46
Ford
EDIS based ignition (1995-1999 engines)
You can tap in to the IDM or PIP output line of any EDIS-4, EDIS-6 or EDIS-8 module.
I don't see my car listed
If you're handy with wiring, look up your car's diagrams and look for a tach signal - either a signal feeding the instrument cluster, or a wire from the ECU feeding the igniter. Then email us your findings or questions and we'll get your car added to the list here!