Overview
RaceCapture/Pro MK4 is our latest generation motorsports telemetry system, packed with features for Endurance Racing, Sprint Racing, Autocross, Time Attack and more.
Guides
How To
Reference
Quick Start
Powering Up

Using optional OBDII cable (2008+ vehicles)
Plug one end of the cable into the RaceCapture unit
Plug the other end of the cable into your car's OBDII port.
Power and OBDII data will be provided to RaceCapture/Pro.
Powering via 12v
Plug the supplied power + CAN data pigtail into the RaceCapture system.
Connect Red to 12v
Connect Black to Ground
Testing on the Bench
You can power RaceCapture/Pro with just the included USB cable. Simply plug one end into your computer, and the other end into the USB connection on the front of the unit.
Note: When powering only with USB, the voltage reference output will only be at approximately 4.7 volts, which can cause a mis-reading of sensor values. When precise sensor readings are required, provide 12v power to RaceCapture.
Install the RaceCapture app
On Desktop
USB Drivers
Windows 10/11: Windows 10 has built in USB drivers that support RaceCapture; no separate driver installation needed.
Windows XP, 7, 8: Not supported due to outdated video drivers, but may work depending on the video hardware used. USB drivers will require installation instructions below.
On Mobile

On Raspberry Pi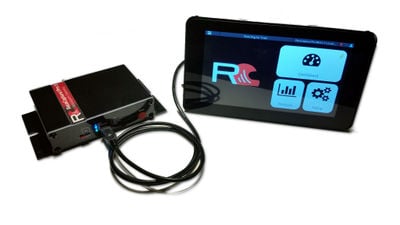 More advanced users can run the RaceCapture App on a Raspberry pi for a more dedicated dashboard experience.
Connect to your RaceCapture system (dashboard)
Use an Android, iOS or Raspberry Pi device as a dashboard in the car:
Bluetooth (Android Only)
In Android Settings, pair your device with the RaceCapture system.
Note: Default bluetooth pin is 1234. You can change this later under Setup / Wireless in the app.
WiFi (iOS or Android)
In your mobile device WiFI settings, connect to the RaceCapture WiFi network.
By default, RaceCapture will setup a WiFi network starting with 'RaceCapture', with no password. You can immediately connect to this network.
Note: You can change the WiFi password later under Setup / Wireless in the app.
Launch the RaceCapture app
Once you've linked the Bluetooth or WiFi (Mobile), or USB (Windows or OSX) launch the RaceCapture app.
Automatic Setup and Verifying Connectivity
The RaceCapture app will guide you through a brief automated setup and tour. During this process the connection to RaceCapture/Pro will be verified.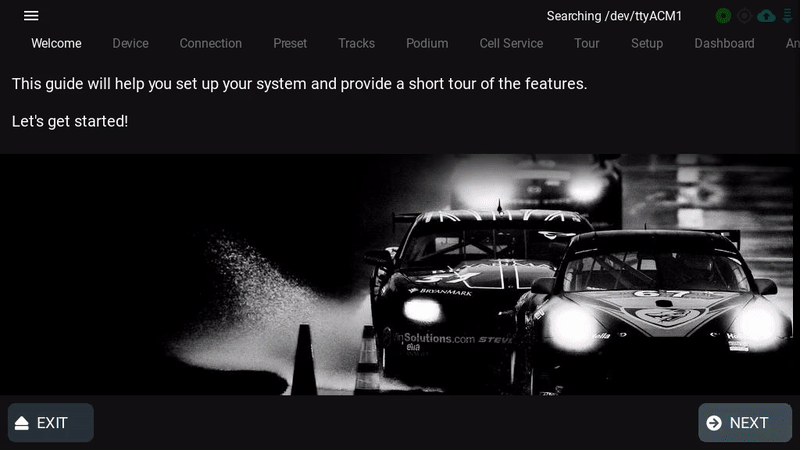 Next Steps
Using the RaceCapture app
See the RaceCapture App User's guide for a full tour of using the app and setting up your system.
Connecting sensors and accessories
See the Plug and Play harness guide to learn how sensors and devices connect to your system
Specifications
Sensors
Analog Inputs
Channels
9 (8 external + 1 internal battery/supply voltage)
Voltage range
0-5v
Input impedance
Greater than 1M ohm
Voltage Protection
400v (intermittent)
ADC precision
12 bit
Maximum sample rate
1000Hz
Mapping
Raw / linear formula / interpolated map
Digital I/O
Channels
4
Output mode type
Open Drain
Output current capacity
1A, inductively clamped
Input mode voltage range
0-12v
Input voltage protection
0-40v
Maximum sample rate
1000Hz
Timer inputs (RPM / Frequency)
Channels
4
Voltage Protection
400v (intermittent)
Maximum sample rate
1000Hz
Mapping
RPM, Frequency
Voltage Reference
Output Voltage / Capacity
5v / 500mA
CAN Bus
CAN Channels
2
CAN baud rate
125K, 250K, 500K, 1M Baud
CAN filters
14 per channel
Protocol Support
OBDII PID, custom CAN mapping
CAN Bus
CAN 2.0 compatible, 1M baud
CAN termination
Software controlled
Cellular Telemetry (Optional)
Optional Cellular
4G LTE worldwide compatible
Maximum Sample Rate
10Hz
Wireless
WiFi
802.11bgn
WiFi Modes
Access Point, Infrastructure
Bluetooth
Bluetooth 2.0 EDR
Maximum Sample Rate
50Hz (Bluetooth and WiFi)
GNSS
Constellations Supported
GPS, GLONASS, BeiDou, Galileo
Antenna Type
External active antenna
Sample Rates supported
1 / 5 / 10 / 25Hz
Accuracy
2.5M CEP
Inertial Motion Unit
Accelerometer Channels
3 (X/Y/Z) (2G, 4G capable)
Gyro Channels
3 (Yaw/Pitch/Roll) (1000 degrees/sec)
Storage
Micro SD
Up to 32GB (SDHC)
CAN bus direct mapping
100 direct CAN mapping channels
Capabilities
Channel Support
200
Predictive Lap Timing
Built-in
Track Mapping
Circut and point-point
Track maps
200 built in for autonomous auto-detection; unlimited via RaceCapture app with interactive track map builder
Sectors per track
20
Logging file format
Plain CSV
Physical
Dimensions
150 x 100 x 30mm (5.9 x 3.35 x 1.18in) enclosure; 5mm mounting ears on 140mm centers; Enclosure body 85mm (connectors extend 15mm beyond main enclosure body).
Temperature range
-40 to 85c
Environmental
Connectors: IP67 / enclosure IP51
Weight
255g (12 oz)
Connectors
M12 12P female (Analog inputs); M12 12P female (Digital / RPM inputs); M8 6P female (CAN1/CAN2/Power); M8 4P female (CAN1/Power); SMA (GPS); RP-SMA (Cellular)
Power supply and Consumption (max)
System voltage: 9 - 24v (40v surge protection) / Power: Main System: 0.6W With Wireless: 1.6W With Cellular Telemetry: 8.6W With Cellular Telemetry and Wireless active: 9.6W
Recommended Fuse
5A